About me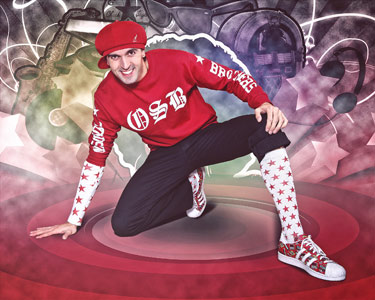 Miroslav Žilka a.k.a "Bruise" is dedicated to dance styles Poppin ', Lockin' and Break dance since 1995. These dances he transformed in his own, inimitable style and unique dance choreographies.
Since 2001 he presented his skills as a street dancer in Vienna with Poppin dance style. Over time, he joined to the famous slovak dance group "Old School Brothers" (Old School Brothers) and on 7 December 2008 they together got the biggest commercial success, when the first group in the world won the famous GOT TALENT TV show, which was known in Slovakia under the name "Slovakia has talent".
With Old School Brothers he takes a part on hundreds of shows at home and abroad, and in 2010 he created his own theatrical dance project called "Street Born High Grown" (in slovak: Z ulice hore) (www.zulicehore.sk)
One year later, 2011, Miroslav took another success … and that was the first Slovak in the history of winning through more than 45,000 competitors from all around the world to the final of the German show "Das Supertalent".
Miroslav is also a teacher in Old School Brothers' dance school, where he releases his skills and many years of experiences to the young generation.
Another success for Bruise is a 3rd place in Czechoslovakia got talent 2013.
In 2014, Miroslav was placed in the Top 10 with his Screen Dancing show at the Austrian talent show Die Grosse Chance.
Miroslav "Bruise" Žilka really addicted to the dance.
If you have questions, please send us an e-mail to find out more.
BD-production, s. r. o.
Kmeťova 4875/28
949 11 Nitra, Slovakia
© Copyright 2015 - 2022 | All Rights Reserved | Developed by MrCode.NET